昆山美华学子探访约翰霍普金斯大学有感
  美华学校美国威睿达思国际课程中心孩子们来到霍普金斯大学,在威睿达思总校长Leon的陪同下,霍普金斯学校招办主任尼克、霍普金斯张教授亲自接待了这群慕名而来的未来之星们。
  在与孩子们面对面交流时,尼克提到申请霍普金斯大学必须要出具证明自己有能力,这里的能力是指真正的领导者而不是形式上看起来有领导的头衔。相较于课业成绩,领导力的展现会更有利于你的名校申请!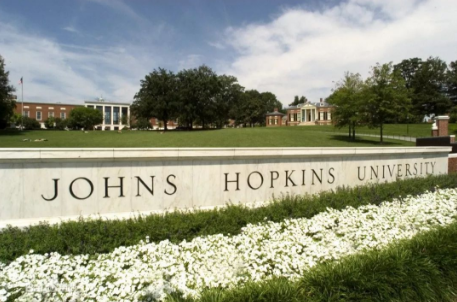 参观约翰霍普金斯大学的美华学自们都提到,霍普金斯以校园精神合作取代竞争,研究与实务操作并重,而大三开始才选科系更是让人着迷的点,因为这样可以启发更多的热情与潜能。这些都跟威睿达思Veritas的校园精神:启发,探索,创造,不谋而合!
  与名校对话、霍普金斯大学参访让同学们百感交集——有钦佩,有震撼,有向往,有责任。
  文字是时光的记录者,在霍普金斯的见闻让孩子们内心充满感慨,来看一看他们是怎么说的吧!
  It's my pleasure today to pay a visit to Johns Hopkins University. The campus has attracted so deeply not only for the beautiful environment, but also the concept of teaching, experiments and education develop simultaneously. The most astonishing place I love most is the Johns Hopkins Archaeological Museum, which contains numerous antiques. In all, it was a fantastic day!
  ——From Lee
  Johns Hopkins is one of the greatest universities in the world. It's honorable for me to visit such a place like this. The whole campus is surrounded by historic building and profound history that attract me a lot. Wandering around the building, students are all serious and hardworking. This kind of spirit is also one factor that intrigue me to study and think like they do.
  ——From Tom
  Today is a kind of sleepy day but I took home some valuable lessons. We visited Johns Hopkins University this afternoon, the sun shone on us warmly. The admission officer and the students in Johns Hopkins introduced the school to us, meanwhile, the students shared their experiences with us. I learned that in the first two years, you don't have to choose one subject in this school, instead, you have variable choices. In addition, Hopkins has the ability to provide chances for every student in its school to explore and research. That's also the shining point I think the school express to us. Last but not least, the most splendid subject in Hopkins is biochemical engineering, and they have common applications. The difficulty of entering this school is what we can't imagine. therefore, I will struggle every day to get closer to my dream.
  ——From Rebecca
  Today, we went to one of the top 10 universities in the whole world- Johns Hopkins. It is such a brilliant school which contains the field of medical science that is known as one of the best majors in the campus, and absolutely, the students are so distinct and organized. All of these make me think more firmly that I should enhance my techniques academically and athletically.
  ——From Nicky
  Today I visited the Johns Hopkins University. It was a nice trip. I know a lot of things about the school, and I know we should do what we like to do. My daddy always wants me to be a doctor, because he thinks that's a nice job and can make a lot of money. But I think I don't like to be a doctor. I won't feel happy from this job. I want to be a software engineer or a lawyer more than to be a doctor.
  ——From Max
  约翰·霍普金斯大学(The Johns Hopkins University),简称霍普金斯大学,成立于1876年,是全美第一所研究型大学,也是世界较好的著名私立大学,属于全球顶级名校。霍普金斯大学尤以其医学、公共卫生、经济学研究、国际关系、文学、艺术以及众多应用科学研究领域的卓越成就而闻名世界。该校的校友中,先后有37人获得诺贝尔奖。